For September, I had Sunday fellowship with the Celebration Church family and it was such an amazing time. We learnt about The Holy Spirit and grew in knowledge of how much of a treasure He is to us as believers.
Yes, The Holy Spirit makes his home in you once you believe but He is no ordinary occupant. I will be sharing some lessons from the sermons of the month and trust that you'll be much more grateful for this gift that God has given us as His children.
Before we go into the lessons, here's a premise to have: there is no revelation about the Holy Spirit outside of Christ. Whatever knowledge you'll have about the Holy Spirit must be consistent with the knowledge of Christ. Gladly, God's word has more than enough to say about Christ. In John 14:16-17, Christ promised that we will receive "another" helper after He left the earth. "Another" implies that He is the same as Christ.
Alright, here we go!
The Holy Spirit is your Governor. 
Whenever the Holy Spirit comes on the scene, He sets things in order. He brings realignment, beautification and conformity. He conforms a person or situation to the will of God.  The moment His Spirit comes in you, He begins to realign your life to your new reality in Christ. He does this because He is going to put you to use.
A Governor serves the interest of his kingdom. So, the Holy Spirit in you serves the interests of the Kingdom of God. He brings the culture of Heaven to the earth. He is in you to conform you to the culture of God. His Spirit sanctifies you. He separates you for God.
The Holy Spirit is also in you to fulfil God's vision. That vision is the pre-eminence of God's will over every system.


The Holy Spirit is your seal.
He is the sign of the relationship you have with God. The same way goods are sealed to show genuineness, you have been sealed by the Holy Spirit to show that you are God's own. His Spirit bears witness with your spirit that you are His child.
Every believer has God's Spirit in him. The same way you get different reactions when there's a fire burning in people's hands, you see different expressions of The Holy Spirit in believers.
A seal on a product also implies that such a product must not be tampered with until it gets to its owner. The Holy Spirit as your seal assures you that you will be preserved until Christ comes back for you.
As your seal, His Spirit in you is the proof of your salvation and the assurance of your salvation. To unseal you is to remove His Spirit from you and nobody can do that!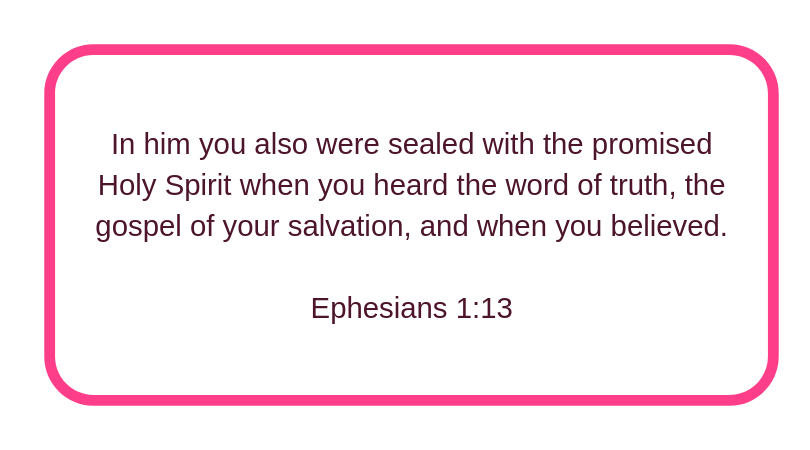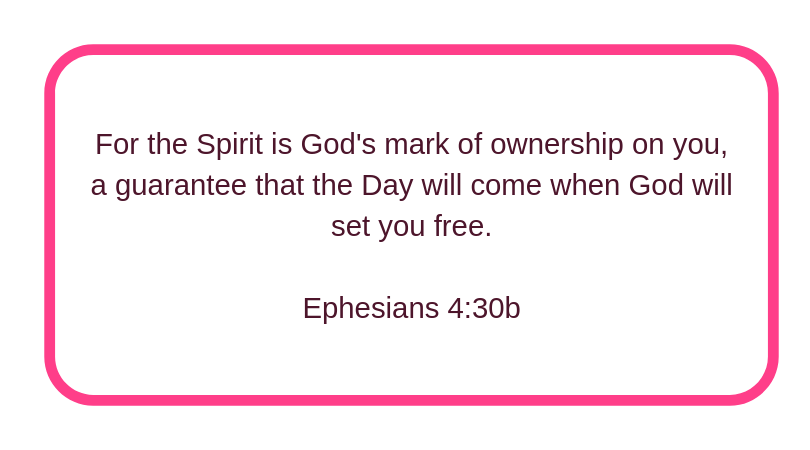 The Holy Spirit is your jetpack.
The same Spirit that raised Jesus from the dead dwells in you. He is your guarantee that you will be raised back to life on the last day.
As Jesus was raised back to life and would never die again, so will you. The Holy Spirit is your assurance of eternal life.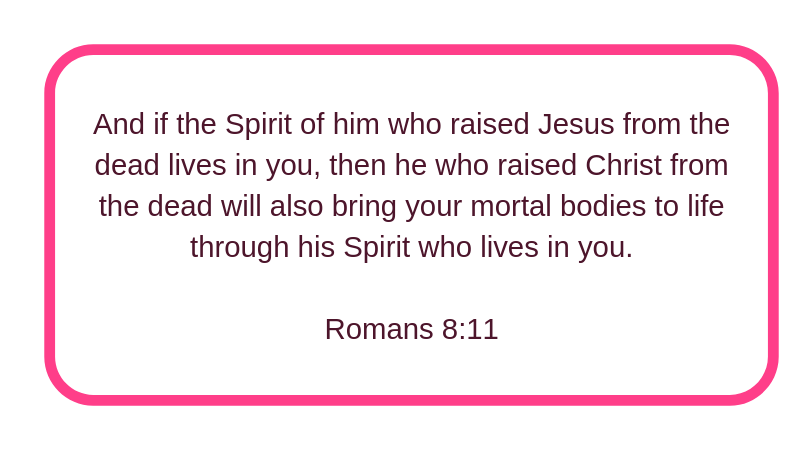 The Holy Spirit makes you able to overcome the world.
While on this earth, you will experience challenges, pressures, afflictions, trouble, persecutions and suffering. Bad things will happen in this world and it has nothing to do with your faith. The world is broken. Knowing this ahead gives you an advantage. It does not meet you unprepared.
Despite how bad the world may be, you should know that God is the solution and not the cause of the problem. The problem is made by man but the solution is God.
You must not lose your faith in God no matter how bad things may get. Your response to bad things happening should be positive. You should be cheerful. This is possible because you already have the best in Christ. You have eternal life. You have the Holy Spirit.
He strengthens you to overcome challenges. Even when you feel the pain, you can sob for a while but push to the point that you act. You have power inside of you to overcome anything the world may throw at you.
Your faith will be tested by the world, not God. But you don't chicken out. You stir up the ability of the Spirit in you and take charge. He is all the power you need to face all conditions.  He is with you everywhere and every time. You can boast of your victory in Christ. You can resist the devil and overcome.
The Holy Spirit is your fire.
He empowers you to do everything that God asks you to do. He gives you supernatural ability to do whatever task that God gives you. The Holy Spirit in you works in you to desire and to do the work of God.
The One who dwells in you is the One who also created everything you see outside of you. You have power inside of you. Use this miraculous power in you is to fulfil God's purpose, not enrich yourself.
You already have everything in Christ, so you can focus on what really counts. Be bold to obey God. Stay conscious of what God has asked you to do and know that you can accomplish it by His Spirit in you. He is your enabler.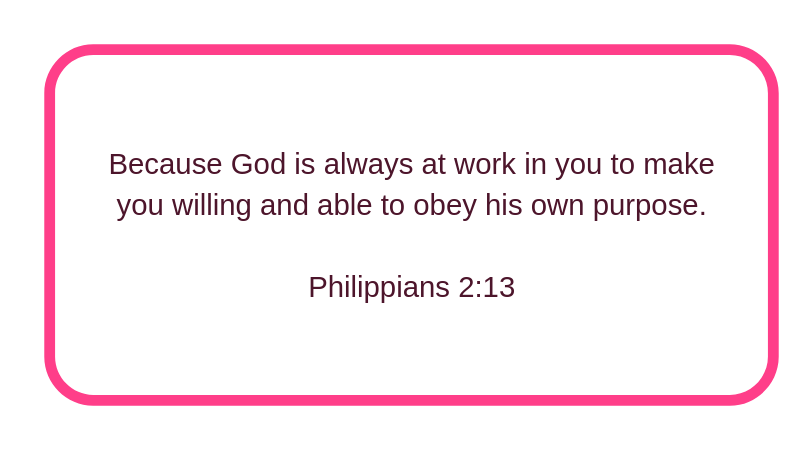 The Holy Spirit is a treasure that we have been gifted and He is worth much more than everything else the world may offer.
You can check the Celebration Church website to listen to the full sermons when published and you can also search previous teachings on the Holy Spirit on the website.
I also shared a post on how the Holy Spirit is our guaranteed access to eternal life.
Thank you for sharing your time with me. I'm glad you stopped by.
Stay cheerful, we already have everything we need.
Photo by Dmitry Demidko