This is what happens when your journey on Lagos Abeokuta expressway inspires a post and a proverb.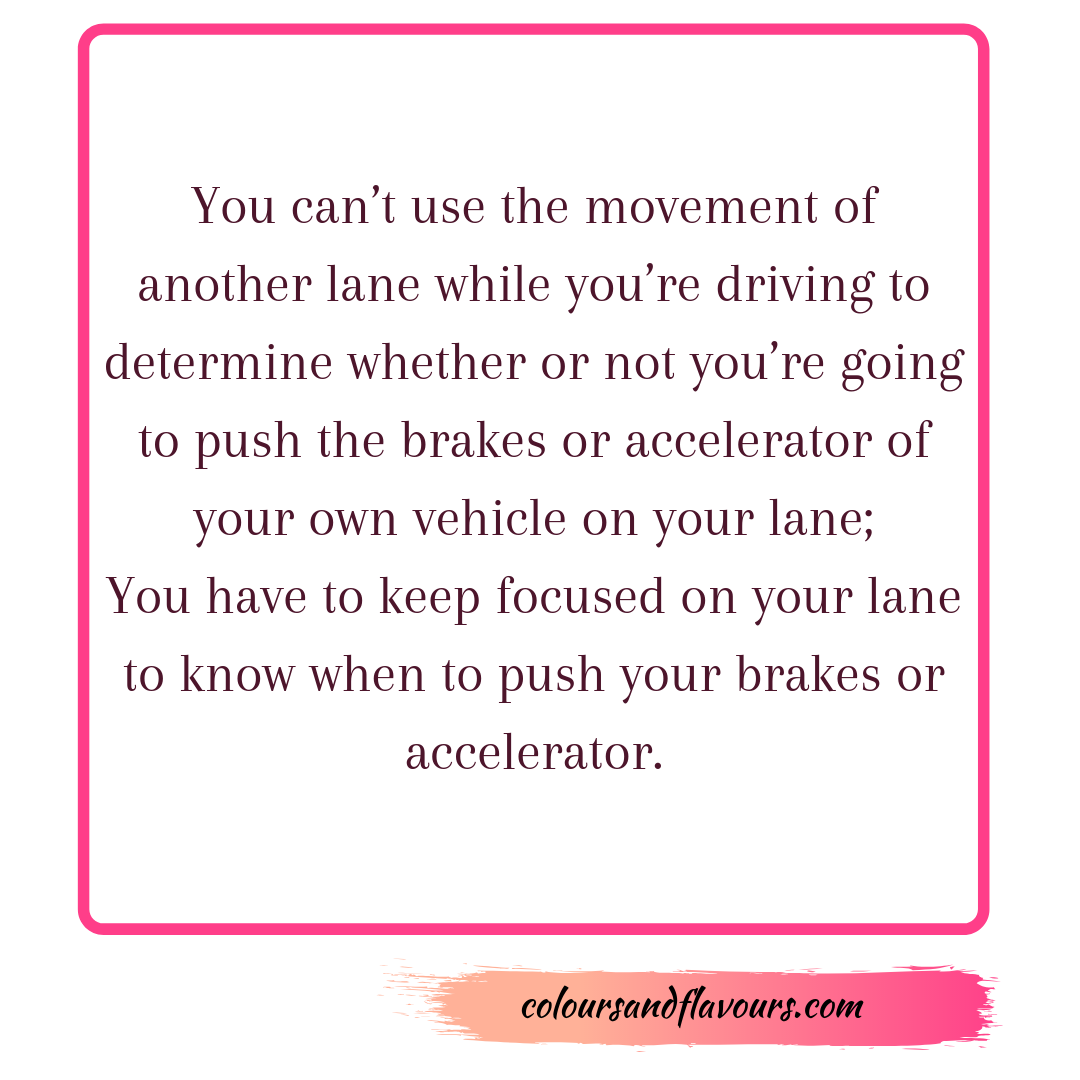 Have you ever been tempted to look at another person's journey to determine what action you're going to take?
Or even with regards to the Faith, have you tried to look at what another Christian is doing to determine whether or not you can do something as a Christian?
Despite how helpful that can be, it's not meant to always be like that.
You have to be focused on what you have been equipped to do or what you have been instructed to do. Then, you should be able to discern, with the help of God's Spirit in you as a believer, what moves to make at each particular time.
How do you decide what to do?
You have to stay focused, understand your task or journey and do what's right for each time.
The time you act is as important as the action itself. Every turn in a journey has its purpose. Don't mash up the process in a rush. There is the right move and the right time.
Trust God's leading for each time. I listened to a message that referenced Joseph's story and I relearned the lesson. You can check it out from Genesis 37 – 50. (Don't be scared, you can read in phases and it's a lovely story.)
In your walk as a Christian, God's Word must be your guide. It must be superior to what other Christians are doing or not.
Remember to stay yielded to the Holy Spirit as you make decisions. You must be willing and ready to obey Him regardless and He will help you.
"But if any of you lack wisdom, you should pray to God, who will give it to you; because God gives generously and graciously to all."
– James 1:5 GNT 
And what do you do when the journey seems extra long?
Know that God is not slow rather, He is always right on time. Let patience have its work in as you pray and prepare.
Discern God's pace and let Him lead you at each time. His ways and plans will always be better than yours. As His child, God is your daddy. He loves you and He always does what's best for you. Rest in Him always.
Got an experience you'd like to share or comment? Please share below.
You can also read up some of my lessons from 2018 here.
Ciao.